Art in the Minster
The beautiful 12th Century Grimsby Minster is not just a religious space. Nor is it just a historical building. It is an open community and cultural venue. Its doors are open for you to experience art within and beyond the church. Talks, workshops and drop-ins run alongside Minster exhibitions, with visits from schools and other groups taking place throughout the project. enjoy art in a local space.
"Art enables us to find ourselves and lose ourselves at the same time."
Art in the Minster
2016 – ongoing
CONTACTS:

paula@ourbigpicture.co.uk
info@ourbigpicture.co.uk
"Collaborate with our online community on specific projects"
What's it all about?
Before Art in the Minster, Grimsby's minster was a space for visual arts, music and theatre projects. We saw its potential as an exhibition space for a full programme of art, with the religious and historical setting providing a different way for visitors to connect to the artwork.
Schools and community groups have enjoyed Art in the Minster events and workshops. One of these groups was the Open Minds poetry group for adults with mental health issues and disabilities, who wrote poetry inspired by each exhibition. The Minster is a safe space to explore, somewhere open and welcoming to all people.
Teachers who visited told us that these events provided something that schools are increasingly not able to provide, with children getting time to learn, explore, be creative, and make art in a new setting.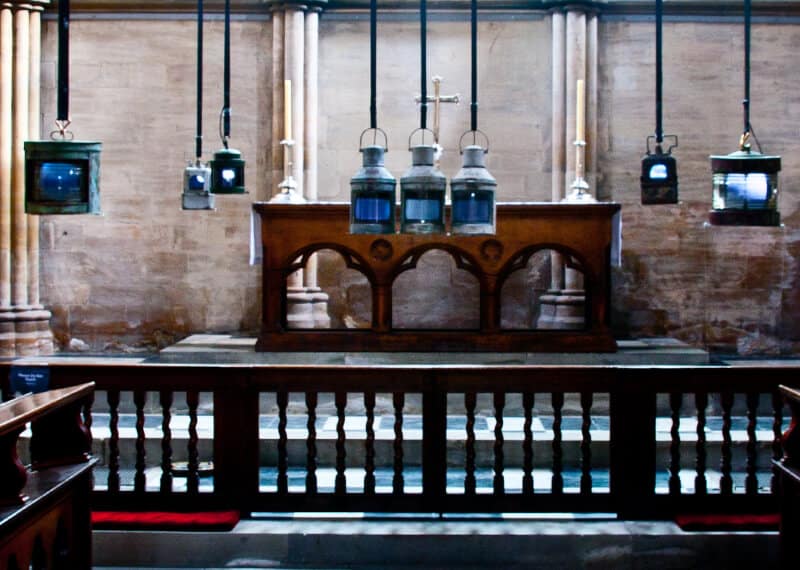 Exhibitions
The 2019 exhibitions were:
'A Day in the Life' (March 2019), where a group of local artists came together to create work based on the Beatles song.
David Tartellin – 'The Christmas Story' – a 50-year series of paintings, accompanied by a lecture and conversation with Lara King from BBC Radio Humberside.
The 2017/18 exhibitions were:
Hondartza Fraga – 'Not for Navigation' – an exhibition of 365 beautifully hand-drawn globes.
Jo Smith – 'Betty's Windows' – a journey of textile installations centred on memories of Betty – a talented local botanist, historian, and writer, and lover of art and embroidery.
Workshops and drop-ins included The Big Draw and celebratory heritage event, Tea with Betty.
Artist Tracey Holland also did some research looking at the migration in the area, which is now developing into a new project that considers our region's connection to the River Humber.
The 2016/17 exhibitions were:
Robert Koenig – 'Memorial Structure' – sculptures looking at migration, loss, discrimination, fear, and collective responsibility.
Lauren Sagar & Sharon Campbell – 'The Chandelier of Lost Earrings' – a sculpture made of 3,000 earrings donated by owners who have lost the pair, with a backstory of letters telling the story of the meaning of these items. This exhibition won the best Lottery funded art project in the UK in the arts category in the 2014 National Lottery Awards and British Women Artist 2015.
Tracey Holland – 'Ordinalia' – a film-based installation on maritime lanterns.
Richard Bartle – 'Deities at the Bottom of the Garden' – sculptures inspired by the places of worship of 12 world religions.
We need artists for Art in the Minster 2021. Are you an artist?
Art in the Minster is a partnership with Grimsby Minster and supported by 20‐21 Visual Arts Centre.
Hull Minster & Sistine Chapel
In this 2019 collaboration, Michelangelo's famous Sistine Chapel works were, for the first time, exhibited at close range in Hull Minster in the 'A Different View' exhibition.
If you were to go to the Sistine Chapel to try to spot a glimpse of the original piece, you would be stretching, looking 22 metres up toward the ceiling – along with the rest of the crowd. The true-to-life reproductions in Hull Minster were only two metres away and visitors could take their time soaking up all the detail in quiet contemplation.
The workshops and events that accompanied this exhibition were:
'Created Together' – A free community drop-in for all ages to create a large piece of artwork based on Michelangelo's "Creation of Adam".
'Drawn Together' – A Michelangelo-inspired Big Draw, exploring different ways of making art and using hands as inspiration.
Children & young people's workshops with local artist Emma Garness and other guest artists exploring art history and traditional art skills, and creating contemporary artwork.
Life Painting & Drawing – with Beverley-based artist Esther Crawley, creating a large acrylic canvas or drawn portfolio based on Michelangelo's work.
Curator talks with Helena Cox, art historian and Curator of Beverley Art Gallery, and John Heffernan, Senior Curator at Humber Street Gallery.
An art competition sponsored by Hull Trains and based on "Creation of Adam" with winners exhibiting their piece at Hull Minster.
Impact
"Very poignant exhibition"
"It is a very soothing and tranquil exhibition. Warm and emotional. Thank you"
"Very nostalgic, with beautiful pieces of work. Really emotional and thought-provoking"
Project outcomes and future
In 2017/2018, Art in the Minster had a total of 6,370 visitors and participants in the programme.
Tracey Holland is partway through a research project looking at Grimsby's early history, including geographical and social, the shifting boundaries of land and shore, and the migration of people. Her plan is to exhibit work in the Minster in the form of film and object installation. We hope to make this a cross-Estuary project to be exhibited in Grimsby and Hull.   
We are looking for artists for Art in the Minster 2021. Are you an artist?
Our Big Picture
Here are some other projects and events from Our Big Picture.
Partners
Art in the Minster is supported by Arts Council England and 20-21 Visual Arts Centre, Scunthorpe.