Art in the Market
You do not need to visit a gallery to enjoy art. Art in the Market brings art to a very public space – Grimsby Top Town Market. Our market is unique. People who visit the market are not just a collection of shoppers. You are part of the town, the community – a mosaic of families, individuals and lives. And you can have the opportunity to participate in something, to make something, to enjoy art in a local space.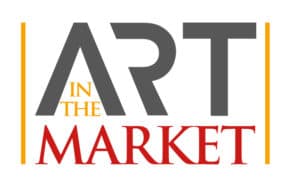 "I found I could say things with color and shapes that I couldn't say any other way – things I had no words for."
Art in the Market
August 2018 – ongoing
CONTACTS:

paula@ourbigpicture.co.uk
info@ourbigpicture.co.uk
"Collaborate with our online community on specific projects"
What's it all about?
Art is not just painting. It comes in many forms – a sculpture, a photograph, a song. Art can bring joy to your day and create a sense of belonging. It can help bring people together, and make you look at something in a new way.
If you've been into Grimsby Top Town market in the last two years, you might have come across exhibitions and installations in the market, workshops and drop-ins, music, and Teenage and makers' markets. Art in the Market has brought experienced artists to Grimsby, and helped emerging artists, crafters, and makers to take their next steps.
Art Clubs, Workshops and Drop-ins
We usually run art clubs, workshops and drop-ins for children, young people and families. Because of Covid-19, our drop-in sessions are not currently running in the market and our art clubs have gone online. We are excited to continue to offer Arts Awards and if you are interested in getting involved just get in touch by contacting info@ourbigpicture.co.uk or check out OBP announcements on social media.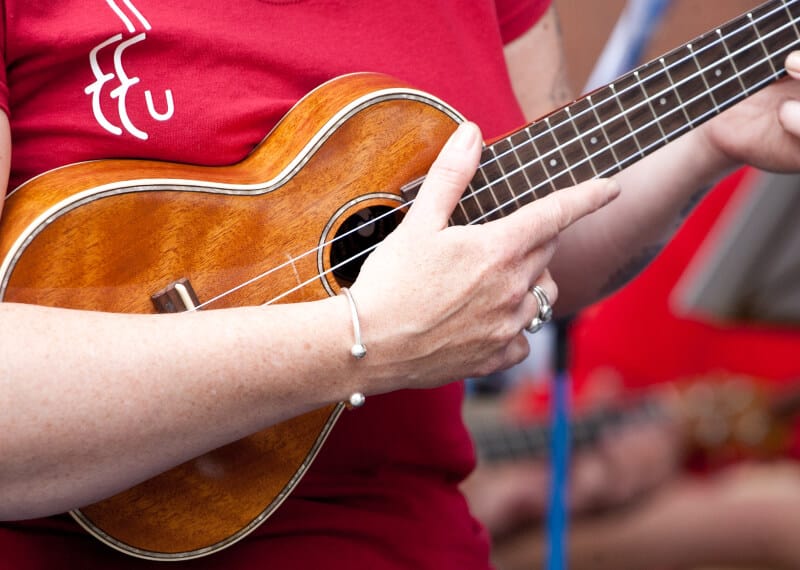 Young Person's Market
Grimsby Young Persons' Market also known as the Teenage Market is for 13-29-year-old makers, crafters, artists, illustrators and entrepreneurs to showcase their art, test out their creative business ideas, and sell their products.
Maker's Market
The Makers' Market, part of the Love Your Local Market campaign, gives regional makers and traditional crafters the opportunity to showcase their creative skills and sell their work.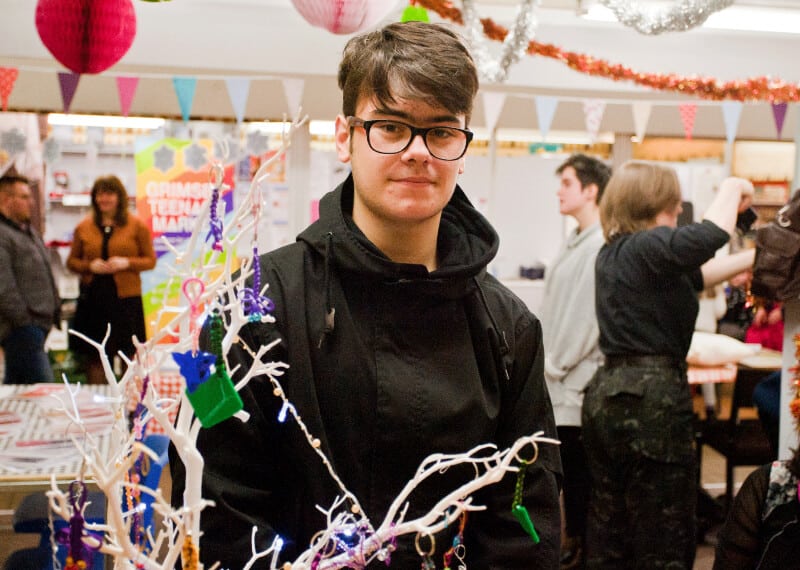 Exhibitions
Wander down the market throughout the year, and you will find exhibitions of all different kinds – photography, painting, sculpture. Normally, workshops accompany each exhibition, but with the current situation, we are looking at delivering these online.
The current exhibition in Top Town Market is 'Grimbarians' – an insightful photography and storytelling project capturing the people of Grimsby that have had a positive impact on the perception and morale of the town.
Past exhibitions have included Ian Kirkpatrick's pop-up exhibition based on commercial packaging design, and his Fisher King exhibition, based on Arthurian legend, which asked the question – how can we heal our planet? Jason Wilsher-Mills, an artist with a disability, blurred the lines between art and technology in interactive work with young people with disabilities using sculpture and Augmented Reality technology.
Art & Science Drop-in – Unweaving the Rainbow
Art and science came together in the Unweaving the Rainbow drop-ins and workshops, thanks to the Physics and Astronomy Department at the University of Sheffield and award-winning artist Paul Evans. Young people in this workshop gained a new understanding of the science of colour, and shared their creative thoughts and feelings.
Music Busking
Feel a lift to the spirit at the sounds of singing and instruments drifting through the market.
Amy Naylor (amynaylormusic.com) often bringings the dreamy sounds of the handpan to the pop-up events on the market. You can also catch DJ James Munro spinning some tunes to visitors of Top Town at our Pop-up Fairs!
Musicians in the market have included NE Lincolnshire Music Service children and young people, Josh & Jo, Emma Middleton, Matthew John Lloyd, Zero Degrees, and the MAPAS choir.
To get involved contact: info@ourbigpicture.co.uk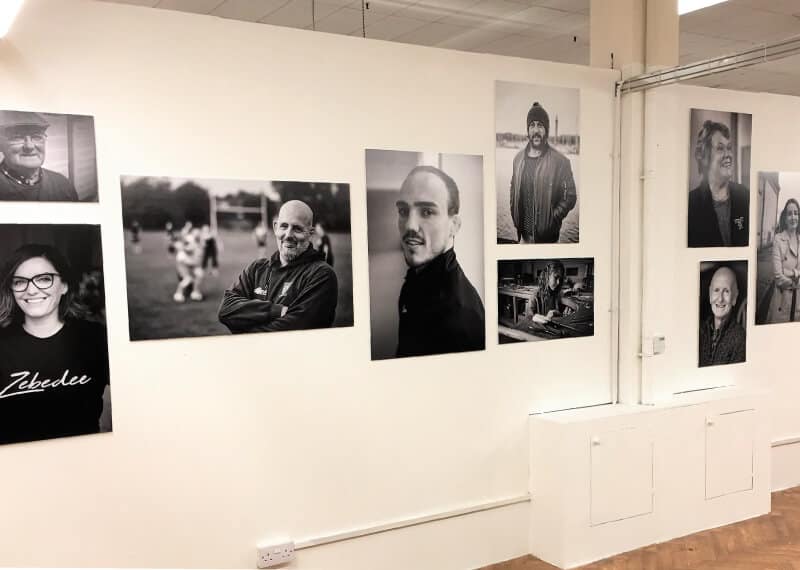 Artist in Residence
On certain days, you will find the Artist in Residence working in the market, making, shaping and sharing art, and chatting with the shoppers and the traders.
Each artist's project is centred on Grimsby – its people, sounds, stories, and history. Alongside these intriguing pieces of art, there are workshops and activities that you can get involved in.
Come on down and have a chat with our Artist in Residence or get involved with their online activities. Follow us on social media for the latest information.
Artist in Residence – Anna Bean
Intrigued by the stories about Grimsby's old Monkey, Pig & Pie Shop, our incoming Art in the Market, Artist in Residence, Anna Bean aka Bluebeany has creating a Victorian theatre pop-up Butcher's shop in Grimsby Top Town Market in her signature surreal (and humorous) style.
You can come to the market to experience her creations on her stall, or you can get the full experience of her residency online or pick up or download the new Monkey, Pig and Pie activity book.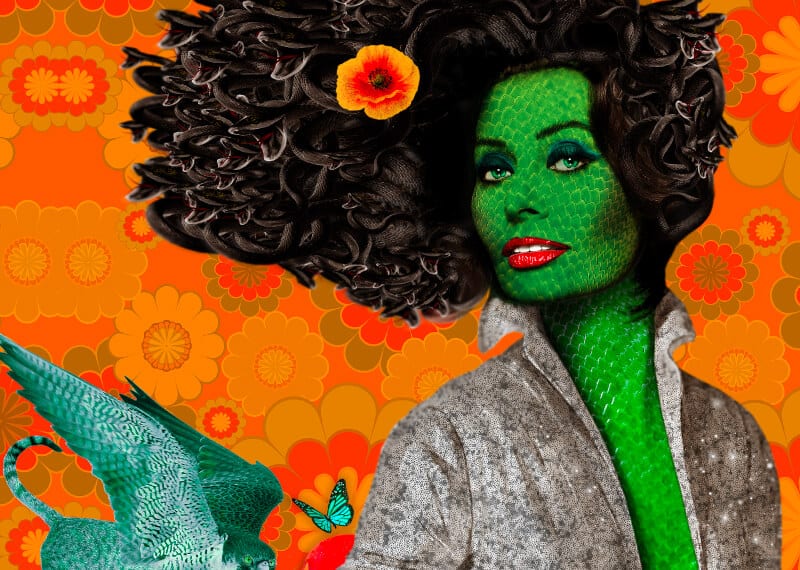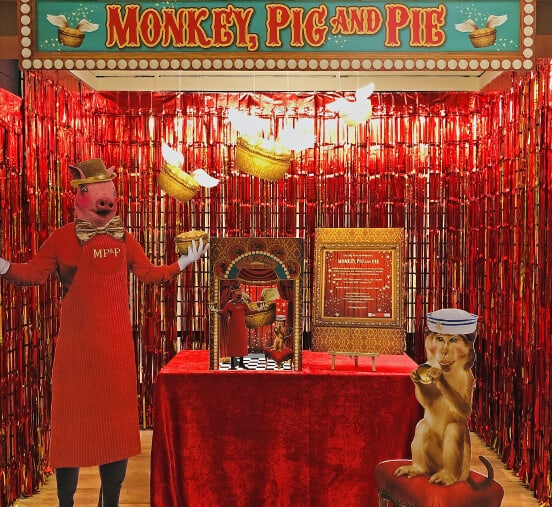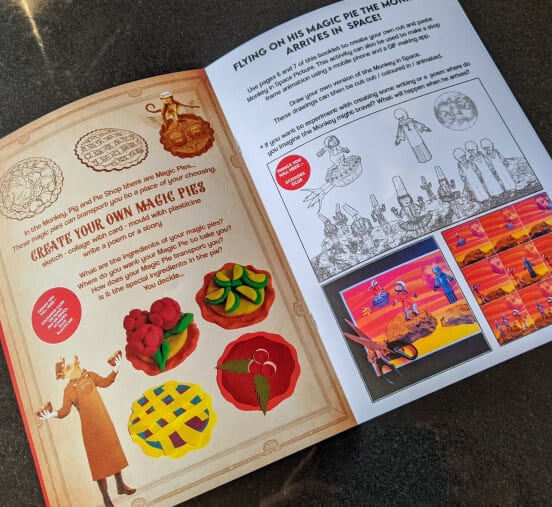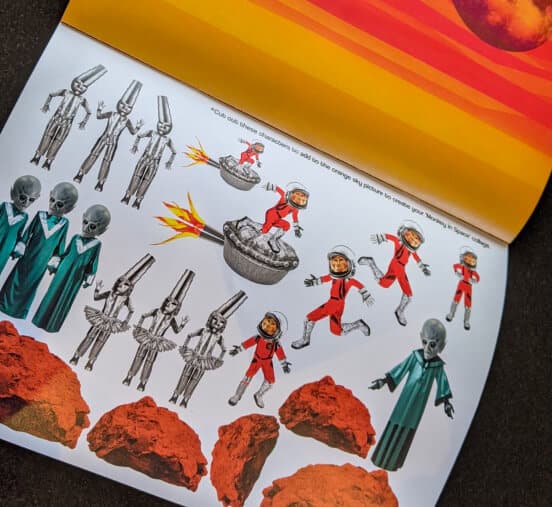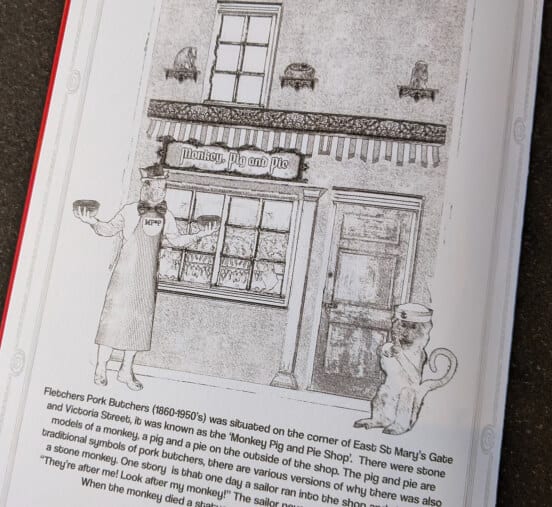 Artist in Residence – Eavesdropper
The current Artist in Residence is Adrian Riley – the Eavesdropper. Adrian started his project in February, listening to the sounds he heard in the market. He used lettering to create words that look like they sound, and art out of the words. He spread postcards of this artwork around the town. And he talked to passersby about all of the different ways that art can be made.
When lockdown happened, Adrian took his residency online. He used created videos so people could do their own 'Sounds into Words' mini zines at home.
Adrian is finishing his residency with a vending machine in the market where people can take away the artworks that he'd made for free – take away a 'sound' from the market – and use them in a new context.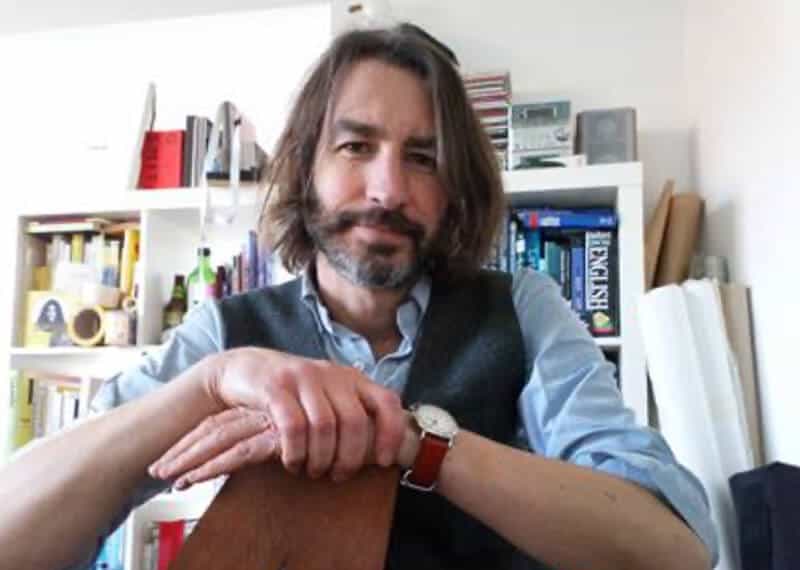 Past Artists in Residence
Former Artists in Residence, Terry Clarke and Graham Firth, both created very different types of art, inspired by the traders, customers and life of the market.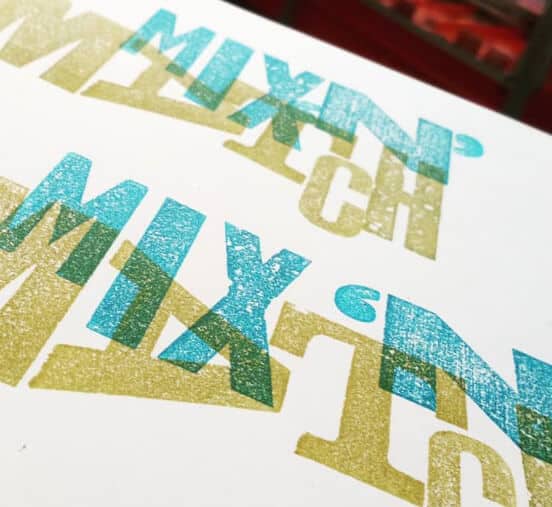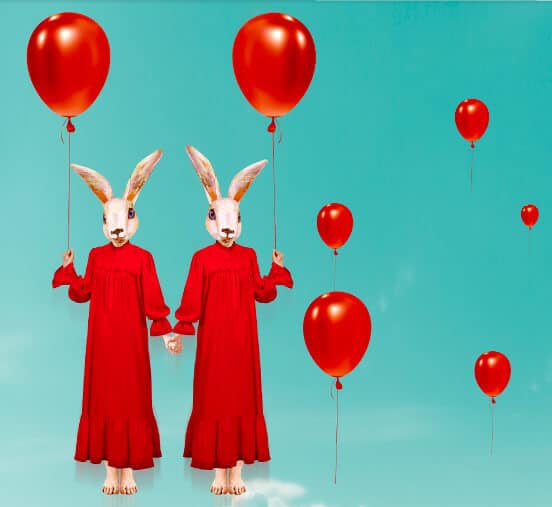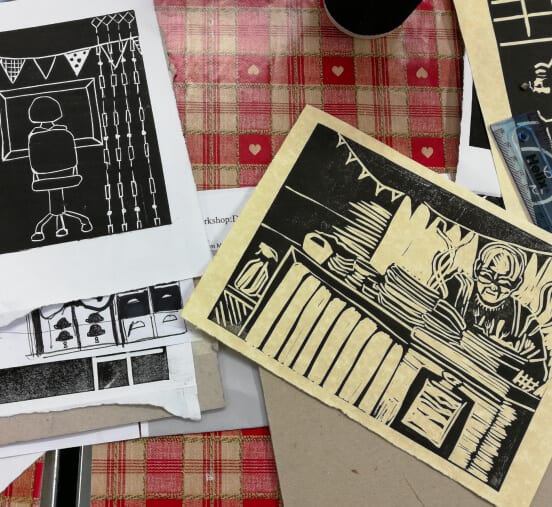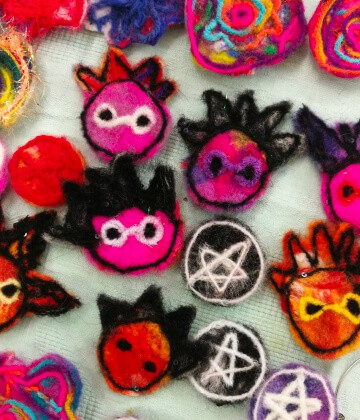 Maker's Market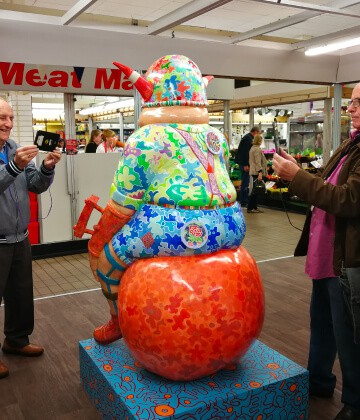 Exhibitions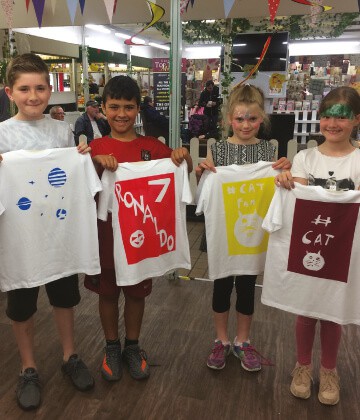 Workshops
Artist in Residence
Impact
"We are a small group of home educators. There is a lack of art provision in our area. OBP has given us opportunities that our children would not have otherwise."
"It's like doing arts and crafts at home but with more materials and I get to share it with my friends and create my own designs. I like that other people can see it and our work is displayed." Charly, aged 9.
"One of my favourite projects at Art in the Market was printing the bags and the t-shirts. I like using the roller and seeing how the design looked that we'd cut out after the rolling." Verity, aged 11.
"Zain loves coming to the art club. This is something that is not provided in schools so is the only way he is able to explore and develop his creative side."
Project outcomes and future
Art in the Market is a two-year contemporary arts and makers programme in the centre of Grimsby's Top Town Market. We passionately believe that everyone has a right to art. Grimsby does not have its own art gallery, so we have brought art to a central public space, and created a programme that everyone can participate in.
More than 3,100 people participated in the project over the 18 months prior to March this year, and 8 support artists were involved. Between September and March, 788 children, parents, carers and groups took part in events and workshops, and an audience of 1,311 stopped by to enjoy sessions, exhibitions, drop-ins and events.
Because of Covid-19, we have had to change how we offer Art in the Market. Our Artists in Residence have risen to the challenge, blending their residency into online and offline channels. We have offered 1-1 by video calls to young people so that they can complete their Arts Awards this year, and we have altered our music programme to fit in with current guidelines.
In the future, we hope to provide more opportunities for artists and makers to share their talents, and to give more people the chance to participate in art.
Our Big Picture
Here are some other projects and events from Our Big Picture.
Partners
Art in the Market is a partnership between North East Lincolnshire Council and Our Big Picture, supported by Arts Council England.